Jump to section:
How to get to El Yunque National Rainforest
What is there to do at El Yunque National Rainforest?
Advice for visiting El Yunque
Conclusion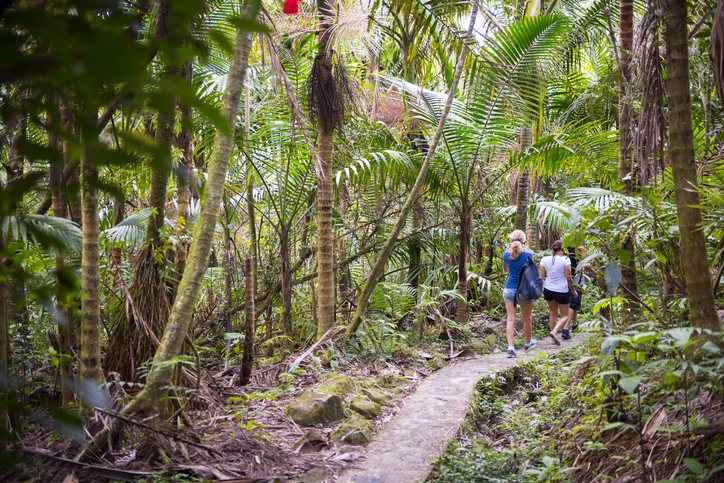 How to get to El Yunque National Rainforest
The address for the visitor center is PR-191 Río Grande, PR 00745. The best route to get there can change depending om the time of the day or the time of the year.
From San Juan, you can take Route 66, which is a toll road, east to Route 3 East. Then, you can continue on that road until you see the signs that say EL PORTAL / EL YUNQUE. When you do, you can take the exit that leads to Route 191 and take that to El Yunque.
You can always use a GPS based app on your phone or you can check Google to find the best route there and home based on the amount of traffic at any particular time.

What is there to do at El Yunque National Rainforest?
There is no shortage of things to do at El Yunque National Rainforest. One of the most popular activities is hiking. There are a few different trails that vary in difficulty which you can choose from based on your level of experience. You can also opt to go on a guided tour if you are more of a beginner. We actually recommend this for anyone who does not already have specific experience hiking in El Yunque.
You normally can also try a few fun things over at the visitor center such as educational movies. However, because of damage from Hurricane Maria, the visitor center has been closed recently. There are plans to have it re-open at the end of the year but that is tentative.
As long as you bring a bathing suit, you can also even take a dip in the rivers and waterfalls that you come across. The two best and most popular spots to go swimming in El Yunque are La Mina Falls and Juan Diego Falls.
There is also ample opportunity to see various types of wildlife in the forest such as different types of birds and reptiles. This includes parrots, hawks and frogs. You can even choose a specific type of guided tour with a guide that is knowledgeable of where the exact best spots are to see wildlife. You can see some of the tours here.

Advice for visiting El Yunque
Before you head off to visit El Yunque, there are a few things that you should know first:
You will need your own car – In order to get into and out of the park, you will need to have your own car. This is because taxi's and Uber's are not allowed into the park for drop-offs or pick-ups.
Take a guided tour at first – It is advisable that you take a guided tour of El Yunque before you set out to explore it on your own. You can get hurt or lost fairly easily if you are not sure what you are doing.
Check out the amenities – There are a few great places that you should make a point of stopping at on your way to or from the Rainforest. One such place is called Degree 18 Juice Bar which is an outdoor juice bar that has a great reputation for delicious juices as well as great food items including burgers and wraps.
Prepare to spend most of the day, if not the whole day there – El Yunque is huge. Exploring just a few smaller parts of it will take several hours. So, plan to spend at least eight hours there.
Do not miss the falls and the trails! – The hiking trails and waterfalls are what make El Yunque National Rainforest truly world-famous. You can find a list of the waterfalls here and a list of the hikes that you can take here.
Bring an umbrella or a poncho – Do not forget, it is called a "rainforest" for a reason. There are seemingly sudden and random spells of fairly heavy rain at times, so make sure that you are prepared by bringing an umbrella or a poncho.
Be ready for poor cell signals – There are not a lot of areas in El Yunque with much cell service, so be prepared to not be able to use your phone for a while.
Conclusion
When you are in Puerto Rico, whether you are just visiting or you have just moved there, you will not want to miss the chance to visit El Yunque National Rainforest. You will definitely need to have a car in order to get into El Yunque so, if you do not plan on renting one, you can always plan on shipping your car to Puerto Rico.