Jump to section:
Keeping a safe distance
Other precautions
Wrapping up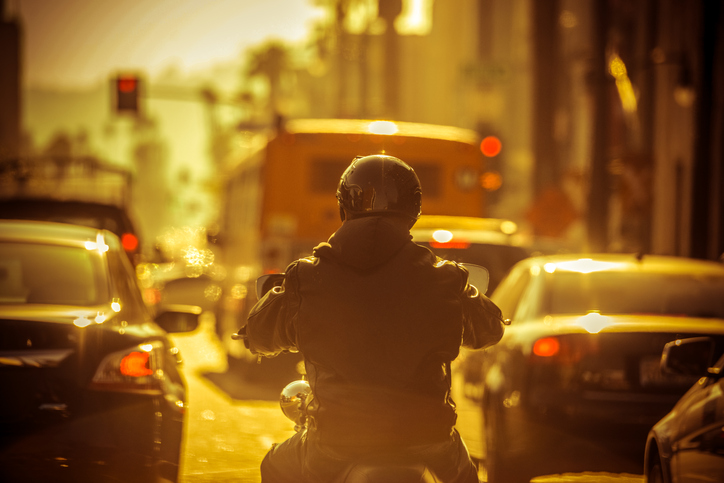 Keeping a safe distance
Driving correctly and safely around motorcycles is extremely important because of the potential for damage both to the bike and rider being exponentially worse than if you hit a typical passenger car. Even what would be a low-speed fender bender could cause a catastrophic injury to the motorcycle rider if they fall from their bike the right way.
Obviously, it is always quite important to keep a safe distance between you and the vehicle driving in front of you. However, with the increased risk of serious injury associated with getting into an accident with a motorcycle you must increase that distance. Also, motorcycles tend to travel at higher speeds than more orthodox vehicles. This means they will have less reaction time thus increasing the likelihood they might stop short in front of you. Motorcycle riders also tend not to brake in order to decrease speed but rather they shift gears in order to slow down more gradually because braking too hard or suddenly could put them at risk of being thrown from their bike. What this means for someone driving behind them is that they might be reducing speed without ever having their brake lights on.
These things won't be an issue if you have the correct distance between you and them. It is recommended that you keep at least four seconds of space between you and them. To calculate this, all you need to do is pick a road marking that the motorcyclist travels over/past. As soon as they are at that point, start counting. If it takes less than four seconds for you to reach the same marking, you are too close.

Other precautions
Beyond keeping a safe distance when driving behind a motorcycle, you should also take a few other simple precautions when driving with motorcycles in your proximity on the road. You should pay extra close attention to your blind spots if you are going to change lanes or turn anywhere near a motorcycle as they are much smaller than regular cars and can be much harder to see. Be sure to always signal with the proper amount of time before performing a lane change because some motorcyclists will unsafely ride in between lanes. If you suddenly change lanes and a nearby rider is doing this the result could be a disaster.
Finally, make sure that you give even more distance in front of you than four seconds if you are driving on a rough road, near a construction zone or in bad weather. A motorcyclist faces much more uncertainty if they hit a pothole or a deep puddle than the driver of a traditional car does. Thus, they tend to make quick maneuvers to avoid such obstacles rather than driving over/through them. Giving them even more space will allow them the latitude to do so.

Wrapping up
In conclusion, driving near any motorcycles out on the road could possibly create an unsafe situation for yourself and anyone else in your car but it poses much more risk for the motorcyclists themselves. Unfortunately, some motorcycle riders put themselves in a bad position with unsafe driving habits like traveling at unsafe speeds and riding in between lanes. The upside is that you can minimize the potential effect these driving habits have on safety by choosing to drive even more cautiously than normal around motorcycles. This includes putting more distance between you and them as well as always using proper signaling.