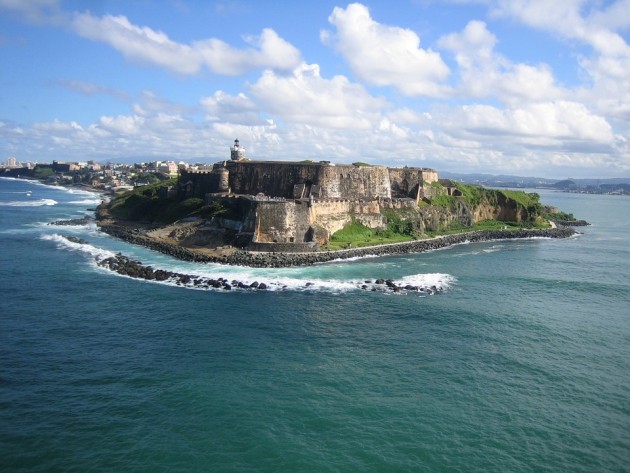 Puerto Rico has so much rich culture and heritage. What makes Puerto Rico stand out from the rest of the Caribbean? The answer is its diversity. You can experience off-the-beaten path experiences or high-flying adventure on a zip line tour through the rain forest. There is history and culture, quiet, serene beaches and vibrant night life. Puerto Rico is one of those destinations that truly has it all.
Make sure to visit these beautiful cities to get the most out of your vacation in Puerto Rico.
Old San Juan – there is something mysteriously charming about the history and culture of Old San Juan. By day, you can take in the charm of the cobblestone streets and the looming fortresses and by night you can surround yourself with the vibrant atmosphere of Puerto Rico and enjoy food, music and beverages of Puerto Rico.
Ponce – looking to soak in some art and culture? The museums of Ponce are your ticket. Museo de Arte de Ponce is the best of all the Caribbean, and Museo de la Musica Puertorriquena will enchant the most enthusiastic museum lover
Fajardo – Las Cabezas de San Juan Nature Reserve, Bioluminescent Bay and Coqui Water Park just to name a few things you can do there.
Island Hop – Like to Island Hop? Visit Culebra (one of our favorite beaches) , Vieques or Isla de Mona just to name a few.
 Embrace a New Experience In Puerto Rico
When you think about Puerto Rico, it's hard to imagine much else except those gorgeous beaches. Try something new:
Explore a fortress
Kayak on a bioluminescent bay
Zip line through a forest
Sip some rum on a factory tour
Visit a cathedral
Visit the Old San Juan Cemetery
Swim with the fishes; never tried snorkeling or diving, now's your chance
Salsa the night away
If you've been to Puerto Rico and got your share of rest and relaxation and want more or even if you've never been there before, visiting these attractions will allow you get the most from your Puerto Rican vacation.  Planning an extended stay? Don't forget you can ship your car it's easier and more affordable then rental costs.