Jump to section:
What the car shipping company does to protect your car
What you can do to protect your car
Final Word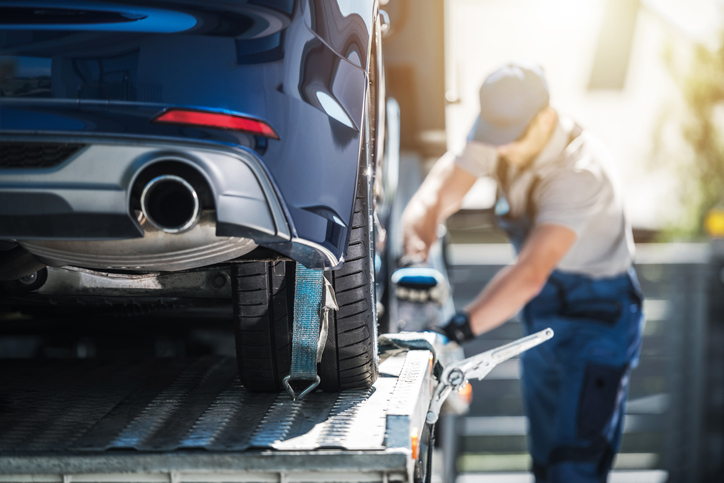 What the car shipping company does to protect your car
Keeping your car safe during transport is the top priority of your shipping company while it ships. Getting your vehicle to its destination on time is obviously also a priority but making sure your car does not incur damage during shipment is paramount. Your shipping company will do several things in order to ensure your car's safety as it ships.
First, your car gets carefully driven onto and placed on the car carrier. The placement of the cars matters, so the fact is that your driver is experienced and meticulously careful when getting your car onto the carrier. Next, your car transport driver will secure your car to the transport carrier truck through a series of tightly secured straps and chains. These straps and chains will ensure that your vehicle does not move while it is being shipped. However, the chains and straps themselves are attached in such a way that makes certain they will not damage your car.
Finally, your car shipping company will offer insurance for your shipment. In a general sense, this will work like other forms of insurance in that it will prevent you from being financially liable in the rare case that an accident of some sort does occur. Specifically, if something does happen to your car during transport, it is quite likely that the shipping insurance will cover any damage.

What you can do to protect your car
The two easiest things you can do to increase the safety of your car during shipping is to choose to ship in an enclosed carrier and/or choose to top-load your vehicle. Shipping in an enclosed carrier will prevent any rain or snow as well as road debris from making contact with your car while it is in transit. Top-loading will place your car on the top deck of an open or enclosed carrier. Doing that will prevent the rare possibility of a car above yours from leaking fluid on it. It will also give you the benefit of not having any small road debris such as pebbles possibly hitting your car during transport.
You can also take a few additional steps such as getting seat covers and floor mats. Your driver will be driving many miles and in and out of several cars throughout the entirety of transport. So, sometimes they can track some dirt into your car. This is rare, so taking this step is not necessary but it is a step you have the option of taking.

Final Word
Protecting your car while it ships is the most important part of car shipping. That is why any reputable car shipping company will do their absolute best to make sure your car arrives at its destination in the same shape as it was in when it was picked up. You can even take some steps to ensure an extra level of safety for your car while it ships. These include shipping it in an enclosed carrier, top-loading it and getting seat covers and/or floor mats.