Jump to:
Decide when you want to go to Puerto Rico
Figure out where you want to go and what you want to do in Puerto Rico
Figure out what you need to bring
Decide where you will want to stay
Take the necessary steps to prepare
Conclusion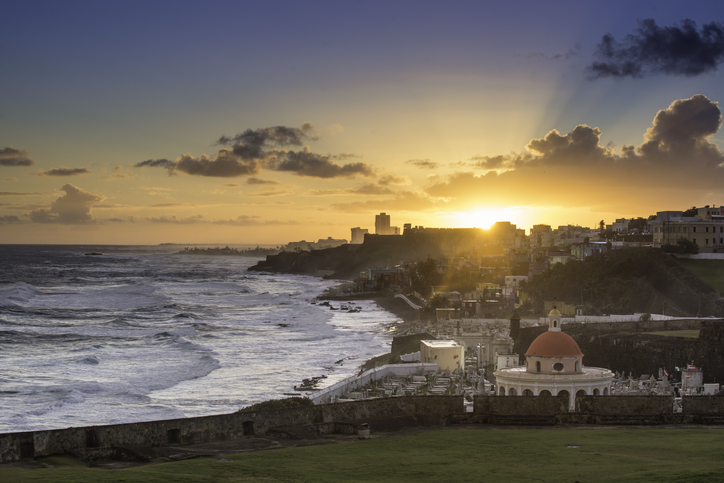 Decide when you want to go to Puerto Rico
The first step in planning for a trip to Puerto Rico is figuring out when you want to go. Many people feel April through the first couple of weeks of June is the best time to visit Puerto Rico because the weather is nice and usually around seventy or eighty degrees. This time frame is also before the rainy summer where there is the ever-present threat of a hurricane.

Figure out where you want to go and what you want to do in Puerto Rico
Next, you will want to figure out where you will want to visit. This is no easy task as there are tons of incredible sights to see in Puerto Rico.
For starters, these are some of the most popular tourist attractions in Puerto Rico:
El Yunque National Rainforest – A world-famous rainforest, the beauty of El Yunque National Rainforest will take your breath away. The rainforest routinely has guided walking tours which can focus on either geography, wildlife or both. This is a must see if you are visiting Puerto Rico.
Old San Juan – The city of Old San Juan is over five centuries old and is one of the more memorable sights in all of Puerto Rico. Old colonial style architecture and sights like hundreds of year old forts make it an experience that you won't soon forget.
Vieques – An island a few miles off the coast of mainland Puerto Rico, Vieques is one of the most talked about attractions in Puerto Rico due to its Bioluminescent Bay in which the water glows bright blue at night due to the glowing phosphorescent organisms that live in the bay in a large concentration. In general, it is also an amazing beach experience. You can get there from the mainland via Ferry.
Culebra – Culebra is another island off the shore of mainland Puerto Rico. It is much smaller in size and is known because of its gorgeous and tranquil waters with barely any waves. If you visit Culebra, be sure to visit its world-famous wildlife refuge as well.
Figure out what you need to bring
You should be prepared to bring all the usual vacations supplies like a bathing suit, sunscreen and towels but you should also consider bringing some other things as well:
A roadmap of Puerto Rico – If you have your car shipped to Puerto Rico, you will need to know how to get around to the places you want to visit. Unfortunately, cell service can be unreliable in certain areas, so you will need a roadmap as a backup just in case.
Mosquito Repellant – Like any other tropical place, bugs and mosquitos are rampant. You should get some spray on repellant as well as a repellant wrist band, so you are covered on two fronts.
A Virtual Private Network – A virtual private network, or VPN for short, is a must have in places like Puerto Rico. Many of the free Wi-Fi networks are not secure and could result in some of your personal information being stolen such as your credit card number. Don't risk this happening, it's very cheap to get a VPN, only a few bucks a month. We recommend Nord VPN.
A portable phone charger – You might want to spend an entire day out at the beach or wherever you are headed to and there aren't always readily available places to charge your phone. Take a portable charger with you so that you can charge your phone on the go!
Decide where you will want to stay
You also must decide where exactly you will want to stay during your Puerto Rican excursion. This is another difficult choice because there are so many great places in Puerto Rico for you to choose from.
Here are some of the best spots to stay while you visit Puerto Rico:
San Juan – San Juan is easily the most popular tourist destination in Puerto Rico and is the capital of Puerto Rico. It has an awesome old colonial feel in much of the city and is near some of the other great sights and attractions in Puerto Rico as well.
Ricon – A gorgeous beach town in the western part of Puerto Rico, Rincon is an amazing place to stay while you are in Puerto Rico. It is one of the best places to surf in the country and is a popular place for weddings and honeymoons due its perceived tranquility and beauty.
Rio Grande – Rio Grande is Puerto Rico's number one tourist resort area. The reason for this is that it is a gorgeous beachfront community and it also has the El Yunque National Rainforest. You can spend one day at the beach here and the next taking a rainforest tour.
Isabela – Isabela is considered a "hidden beauty" because there won't be too many other tourists there. It is a tucked away beach community with just as much beauty as any other beach in Puerto Rico if not more.
Take the necessary steps to prepare
You will want to make sure you have thought about everything above before you start making your travel arrangements. This way, the amount of time you spend actually making the arrangements will be kept to a minimum.
Once you do start making your arrangements be sure to shop around for the best deals on things like hotels and flights. If you spend the time looking, you should be able to get these arrangements at significant discounts. Consider using sites like Trivago, Hotels.com, Travelocity and more for the best possible comparison rate shopping on travel arrangements.
You could also consider shipping your car to Puerto Rico if it is an extended trip where you will be driving to various places and attractions. The public transportation can be very unreliable, Uber is essentially non-existent, and cabs can price-gouge. The only issue with shipping your car is the cost of shipping does not factor in the Puerto Rican excise tax. So, you will need to calculate that yourself.

Conclusion
There is a lot to consider if you are going to be visiting Puerto Rico. You will need to plan the details of your trip very carefully so that you ensure that you have the very best experience possible.
You need to keep your eye out for the best deals and savings on your travel arrangements as you wouldn't want to end up paying more than you had to.
You will need to bring whatever you can think of that is necessary for your trip like bathing suits, phone chargers etc.
Most of all, be sure you choose the amenities and details of the trip that you most want. You wouldn't want to see something just because it is cheapest or has the best proximity to your hotel.