Jump to:
The wildlife of Puerto Rico
The best places to see wildlife in Puerto Rico
Tips for seeing wildlife in Puerto Rico
Conclusion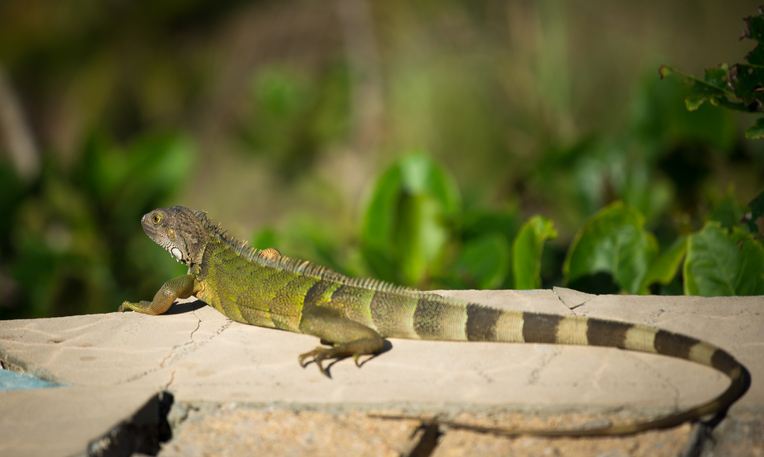 The wildlife of Puerto Rico
There is a seemingly endless amount of wildlife to see when you are in Puerto Rico, from exotic birds and bugs to monkeys and manatees. Some are native to Puerto Rico, while others were introduced by humans. However, they are all a rich part of the Puerto Rican landscape today.
Bats are the only native land-based mammals in Puerto Rico, and there are thirteen different species you can encounter while you are in Puerto Rico.
Non-native mammals, mammals that were introduced by people, include donkeys, pigs, horses and monkeys. The monkeys are primarily secluded to a small island off the coast of Puerto Rico called Cayo Santiago. The rest of these mammals are scattered throughout Puerto Rico.
Some of the most sought-after mammals in terms of sight-seeing are of the marine variety. The native marine mammals of Puerto Rico include manatees, dolphins and whales. The whales which are humpback whales and dolphins can be seen via several different sight-seeing tours which you can check out here.
The birds of Puerto Rico are probably the easiest to see of all the wildlife. There are so many types and they are all over the place. The types of birds you can see in Puerto Rico include: hummingbirds, bullfinches, owls, todys, mangos and more.
There are also a bunch of insects and reptiles in Puerto Rico. The insects of Puerto Rico include butterflies, spiders, scorpions, ants and mosquitos. The reptiles are limited to snakes, frogs and iguanas. These can generally be found in the more remote and natural environments such as the rainforest. However, it is possible to see one or two of these make their way to more populated areas. Be careful around these creatures, as some could be poisonous.

The best places to see wildlife in Puerto Rico
If you are interested in seeing any of the wildlife, you will likely need to venture out to different parts of Puerto Rico to do so.
These are the best places to see the wildlife in Puerto Rico:
Tips for seeing wildlife in Puerto Rico
Do not get too close – Some of the insects, such as spiders, might be poisonous. So be sure that you do not get so close that you could end up getting bitten.
Be quiet! – You won't want to scare any of the wildlife off. Be sure that you remain as quiet as possible at all times so that you can avoid doing so.
Do not bring your dog – Dogs will scare other animals off, leave your pets at home when you go out to see wildlife.
Bring binoculars – With binoculars, you will be able to see animals from a distance without scaring or otherwise disturbing them.
Go out with a guide – Unless you are experienced at viewing wildlife in the specific area that you plan on visiting, you should get a guide of some sort who knows exactly where they are going and what they are doing.
Conclusion
Puerto Rico is a fantastic place to see some incredible wildlife. There are a bunch of great spots to check out the animals, birds and marine life.
It does help to have a car in Puerto Rico to get to most of these places. You can rent a car but that will limit you on where you can go and it could get costly pretty quickly. If you have a car in the United States, you can always ship your car to Puerto Rico with the help of the experts here at Puerto Rico car transport.