Jump to
Basic information about driving in Puerto Rico
The best scenic drives in Puerto Rico
Tips for scenic driving in Puerto Rico
Conclusion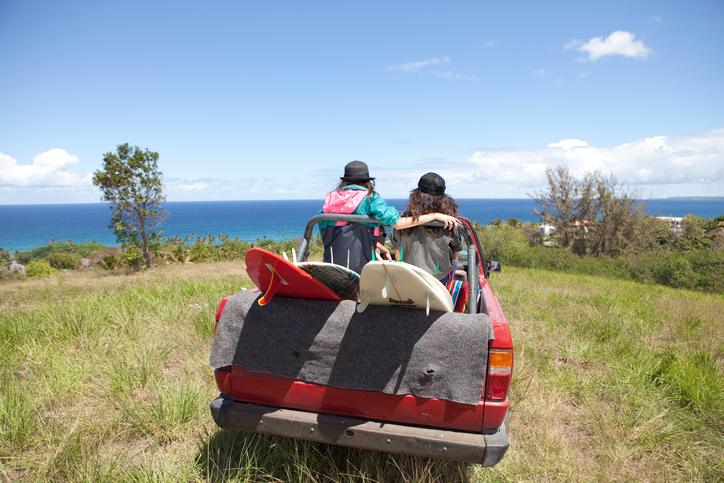 Basic information about driving in Puerto Rico
Driving in Puerto Rico is definitely a different experience than driving anywhere else in the world. The most noticeable difference is probably the aggressive driving habits many Puerto Rican drivers seem to have. Many people will do things like rolling through stop-signs, stopping abruptly as well as turning left from the right lane and vice versa. Just stay aware and pay close attention and you should be fine.
You should also be aware of the fact that some tolls in Puerto Rico are now completely cash-less. So, if you do not have their version of EZ-Pass known as AutoExpreso, you will not be able to pass through these tolls without getting a hefty ticket. You can visit the AutoExpreso website if you want to get your own tag so that you will have no issues with tolls while you drive in Puerto Rico.
Road signs are in Spanish in Puerto Rico even though many people in the country speak English as their first language. Road signs with distance on them measure distance in kilometers. You can find common translations for some of the road signs in Puerto Rico here.

The best scenic drives in Puerto Rico
The following are some of the very best scenic drives that you can take in Puerto Rico:
Rio Grande to Fajardo to Guavate to Ponce – Driving from Rio Grande to Farjardo, Guavate and Ponce is a wonderful excursion to take when you are in Puerto Rico. This route includes stops at Luquillo Beach, the Las Cabezas de San Juan nature reserve, a bioluminescent bay and much more.
San Juan to Loiza to Rio Grande – Cruising from San Juan to Loiza, then to Rio Grande is a nice little trip where you will be able to enjoy some amazing experiences while taking the trip at whichever pace you want to. The drive will include spectacular views of colonial forts, quaint churches, a few smaller beaches, and the mesmerizing El Yunque National Rainforest.
Ponce to Guanica to Sabana Grande to Cabo Rojo – Taking a trip from Ponce through Guanica and Sabana Grande to Cabo Rojo is another fantastic way to spend part of your time in Puerto Rico. During this drive you will get chances to experience trolley tours, forests, religious sanctuaries and much more.
Ponce to Corozal to San Juan – Going from Ponce to Corozal and then San Juan by car is a trip we highly recommend. Along this trip you will have the opportunity to experience mountains, caves, and even an observatory.
Cabo Rojo to Rincon – Driving from Cabo Rojo to Rincon is a great route to drive if you want to skip the sightseeing for the most part and get to the beach and enjoy the surf and the sun.
Tips for scenic driving in Puerto Rico
If you do decide to take one of these driving trips, you should keep the following tips in mind while you do:
Pay attention – As we mentioned earlier, driving in Puerto Rico can get a little complicated because other drivers tend to not obey the rules of the road so well and end up driving pretty aggressively. If you want to avoid getting into any accidents as a result of this, you just need to pay close attention to the road and you will be fine.
You might need to drive off-road, make sure your car can handle it – We do not recommend you taking these scenic routes with just any old car. We suggest that you make sure your car is ready for some mild off-road driving. However, you can take these routes without going off-road. You just might be tempted to as it increases the amount of enjoyable sightseeing you can do.
Take care of your car – Your car will be doing a lot of driving if you choose to take one of these trips. Make sure that your car is ready to have some miles put on it. We recommend getting an inspection right before you take one of these trips.
Bring extra supplies – Make sure that you have extra supplies for any of your Puerto Rican excursions. This includes food and water as well as things like extra sunscreen, umbrellas, insect repellant and whatever else you might think you need. Some of the areas on the list can be pretty remote, so finding extra supplies at the store might not be an option.
Check the weather – It is important to check the weather forecast before you venture out on any sort of long drive in Puerto Rico because the weather can get very bad occasionally. Of course, this depends on the time of year that you choose to take one of these trips in Puerto Rico. The tail-end of the summer has the rainiest weather.
Conclusion
Taking any of these scenic routes is a great experience and you would be well-advised to do so yourself. Just take your time, take in the sights and drive with caution and your trip will be a memorable success. Be sure to check the weather before you leave too. You do not want to get stuck out on the road in a remote area during a bad storm. Try and take a GPS or an old-fashioned road-map with you too because there won't always be cell service where you are so a GPS app on your phone might not work.