Jump to section:


Being safe on the side of the road
Roadside assistance programs
Wrapping up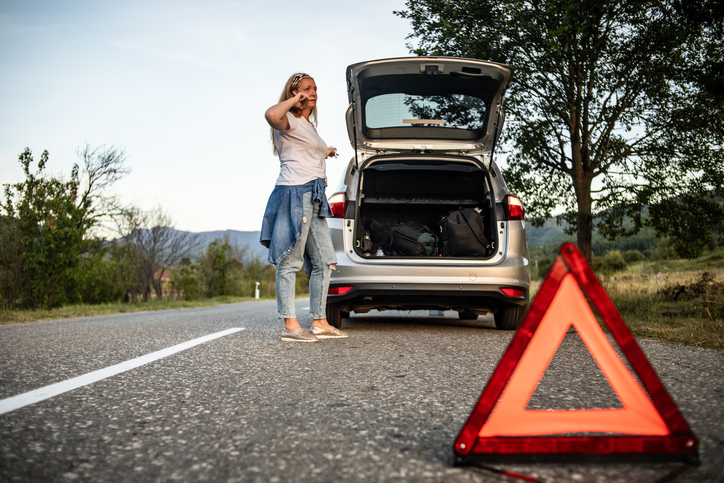 Being safe on the side of the road
When you have car trouble in the middle of driving, the very first thing that you should do is pull over on the shoulder or side of the road completely out of the path of oncoming traffic. Once you do that, you must make sure that you are being safe before you can try and fix what has gone wrong with the vehicle. This will primarily entail being sure that you are completely visible to any other motorists that are driving by.
Being safe when you and your vehicle are stuck on the shoulder of the road will start with putting your hazard lights on and then checking to make sure you are far enough away from traffic prior to exiting your vehicle for any reason. Once you exit your vehicle, you should consider setting up road flares or mini-warning triangles. Both of these can be purchased online or at an auto store.
After that, you can take a look at your vehicle and the engine to see if what has gone wrong will be an easy and quick repair. If it is not, call the authorities for help. If you have a roadside assistance program, you can also call them to come and help instead.

Roadside assistance programs
Having a roadside assistance program can be a huge help in these types of situations. A program such as AAA will send out a driver who will do their best to resolve your issue. If they cannot, your car will quickly get towed to a nearby service station and you will also be given a ride there.
However, there is a very good chance that they will be able to resolve your vehicle's issue. Typically, roadside assistance drivers can take care of flat tires, jumps, empty gas tanks, mechanical failures such as a slipped belt and more. These programs will cost you a monthly fee but are definitely worth it both for the peace of mind and the actual protection.

Wrapping up
When your car breaks down and you end up stuck on the side of the road, you will definitely not want you or your vehicle to get struck by a passing car and have matters get much worse. So, you will want to make sure you are as off to the side of the road as possible. Then put your hazard lights on. Once you do that, check to make sure that it is safe to exit your vehicle before you do so. After you exit your car, try to make it even more visible with road flares and/or mini-warning triangles. Once you have done this, you can check to see if you can fix the issue with your car. If you cannot, call the authorities or your roadside assistance program if you happen to have one.