Jump to section:
How long can you drive with a donut on?
Donut storage tips
Wrapping up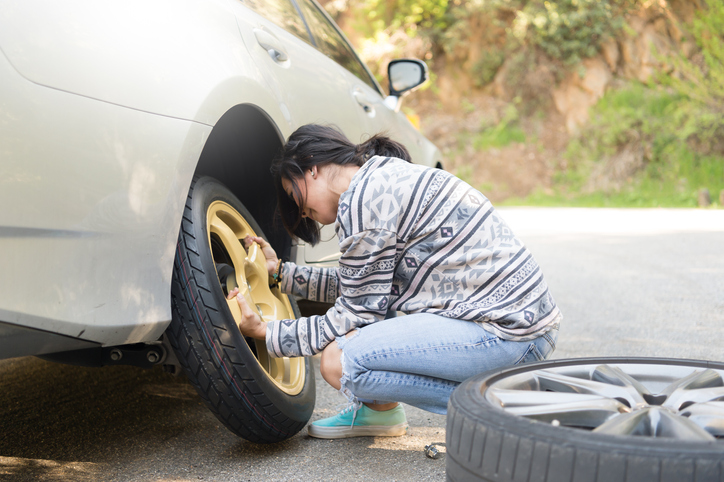 How long can you drive with a donut on?
Almost all drivers have suffered at least one flat tire in their lives. It is a tremendous inconvenience that will cost you both some time and money. That is where a donut tire comes in handy. If you ever find yourself with a flat, you can simply replace that tire with the donut and be on your way.
A donut tire, or a spare tire as many people call them, is a tire that that is smaller than typical tires. It is intended for emergency use only and is more easily stored in your car than a traditional tire. You will not be able to drive on a donut for very long. It is not meant as a permanent replacement for a normal tire but a temporary fix in order to allow you to get to an auto or tire shop. It is recommended that you only drive on a donut for less than seventy-five miles or fewer than three days, whichever comes first.
Otherwise, these tires can wear extremely quickly as they typically have almost no tread to them. The fact that they have little, or no tread also increases the chances of you being involved in an accident of some sort. Treads help you grip the road which enables smooth and precise maneuvering and braking. This means on a donut, braking and maneuvering like steering will become more difficult.

Donut storage tips
Storing your donut should be quite easy. They are manufactured smaller in order to be able to be easily stored as we mentioned above. There is likely a space made specifically for a donut in your car somewhere. The most common place for this is in the trunk. However, you can check your owner's manual to see exactly where your donut is located or can be stored.
It is a good decision to keep an actual extra tire in your car, thus you can skip the extra step of getting a new tire if you ever get a flat. However, you will need to check the available storage space in your vehicle to see if a new full-size tire can be stored there. If you do not, you might end up eating a considerable amount of trunk space with the extra tire. It will also likely get the interior of your trunk pretty dirty.

Wrapping up
A donut is a special tire that is there just in case you end up with a single flat tire. It is only to be used as a temporary replacement until you can get the original tire patched/repaired or until you can purchase a new or used tire to replace the original. Never use a donut for driving more than seventy-five miles or for driving for more than three straight days. Whether you have to ship a car to Puerto Rico or to the United States from Puerto Rico, the car shipping professionals at Puerto Rico Car Transport will always be able to get your vehicle there with ease! Call us today for an instant free quote at (904) 322-7644.