Jump to section:
When to consider getting your car painted
The overall cost and effect on resale value
Wrapping up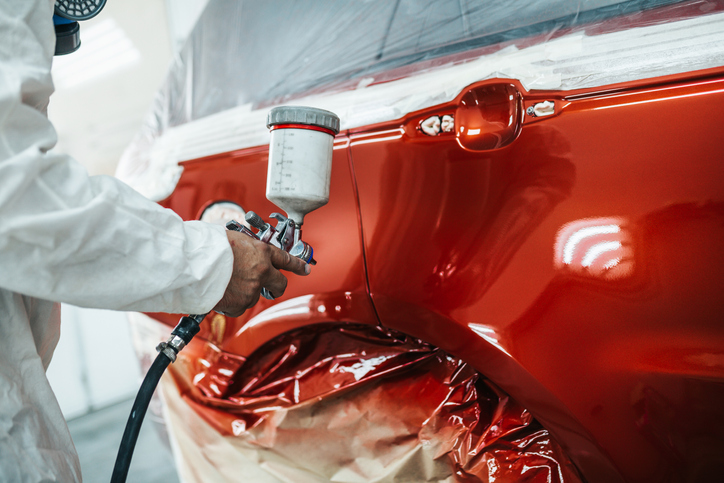 When to consider getting your car painted
Most people have never even considered getting a vehicle painted. However, sometimes it can give new life to the aesthetic of your car. Typically, having rusted, peeling and/or faded paint on an older car is the most common reason people choose to get a paint job for their vehicle. The more you let these issues with your car's paint go the worse they will get as time goes on and the further your car's overall value will fall.
There are several important things to consider when you are thinking about getting a new paint job for your car:
Old paint and damage must be removed – In order for the new paint to look its very best, the old paint must be removed. If not, the new paint will not end up with a clean and smooth look to it. The same goes for any scratches or dents. These must be repaired before new paint can be applied.
Getting your car painted will take several days – As we mentioned, the old paint must come off first and old damage must be repaired before the new paint can be put on. Thus, it can take between three days and a week for a new paint job to be properly completed.
A good paint job can last over a decade – Believe it or not a new paint job can last between ten and fifteen years. So, if you think you might sell your car a few years down the road, you can definitely get a new paint job, enjoy it for a few years and then still sell it with some additional value.
The overall cost and effect on resale value
Some people tend to mistake getting a new professional paint job for a car with haphazardly spray painting a car. There is a world of difference between the two. As we mentioned, when you get a professional paint job the old paint gets removed and any existing cosmetic damage on surfaces where new paint will be applied will be repaired. With a quick and unofficial spray paint job, someone will just spray new paint over the old paint and damage. Not only will it be clear that that is what was done because of the sloppy and haphazard looking work but doing so could actually make damage like scratches or dents become much more noticeable.
Any quick spray paint jobs will surely decrease the overall value of the vehicle. However, getting an official by-the-book paint job for a vehicle can surely increase the value. At the very least it will not decrease it. This is because the existing exterior cosmetic damage gets repaired, and your car has a much newer and attractive overall appearance.

Wrapping up
There are several huge benefits to getting a new paint job for a vehicle. It will make your car stand out, look several years newer and it will likely increase the resale value of your car a bit. However, that is only if you spend the right amount of money and get an official new paint job. Do not try to cut a corner and get your car quickly spray painted. It will look sloppy, enhance how noticeable existing damage is and will surely decrease the value of the vehicle.