Jump to section:
The weather and the best times to visit Puerto Rico
How you can get around in Puerto Rico
The best places and sights to see in Puerto Rico
Final word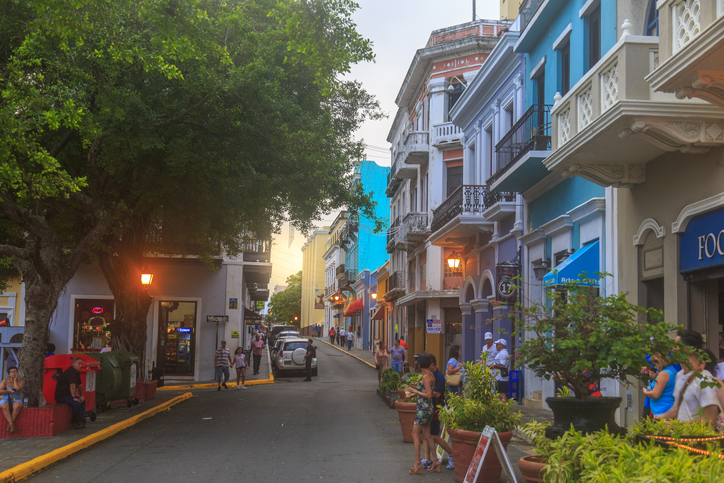 The weather and the best times to visit Puerto Rico
Puerto Rico has a tropical climate which makes it a highly visited vacation spot. The temperatures generally range from 70 degrees to 90 degrees throughout the year. There is a rainy season which generally lasts from April through November.
However, it really does depend on where you are in Puerto Rico because some areas get well over a hundred inches of rain per year while others get less than fifty. The areas that tend to get the most rain are the mountains like Pico del Este and the El Yunque rainforest. Coastal areas like San Juan get much less rain.
Late summer and fall are when you tend to have the risk of a tropical storm or a more serious hurricane such as Maria a few years back. So, we recommend that you avoid planning a trip to Puerto Rico until you get closer to those times when you can check a forecast before you book a flight.
In the end, the best overall time to take a trip to Puerto Rico is the last two weeks of April and the entire month of May. This is after the busy season that takes place during winter months ends and before the semi-rainy and busy summer months begin.

How you can get around in Puerto Rico
Getting around in Puerto Rico can seem complicated, especially when you are visiting for the first time. If you are visiting an area like San Juan and are not going anywhere else, you can easily get away with walking, taking taxis and/or public transportation. Ride share apps like Uber are pretty limited or even non-existent in most areas of Puerto Rico.
However, there is so much more of Puerto Rico that you should see than any one particular area. So, your options to get from one area of the island to another are to rent a car, ship your car to Puerto Rico, or by taking Carros Publicos.
Renting a car, especially depending on what area in Puerto Rico you are doing so in, can get quite expensive quickly. If you are only staying for a handful of days, it could be a feasible option. However, for longer trips you should consider shipping your own car to Puerto Rico.
Carros Publicos is basically a town car service that operates in the main areas of Puerto Rico such as San Juan. All you need to do is to find these cars which usually assemble in areas where they feel they will pick up the most fares such as near the airport. We are recommending these over taxis because the rates are much lower.
If you need to get from the main island of Puerto Rico to the other islands like Culebra and Vieques, you can take a ferry or even a short flight. You can find more information about the Puerto Rican ferries here.

The best places and sights to see in Puerto Rico
If you are planning on visiting Puerto Rico for the first time, you should plan on taking trips to visit at least some of the following places:
El Yunque National Rainforest – This rainforest is almost thirty thousand acres in size and is as lush and beautiful as any other rainforest in the world. It also includes a ton of different types of wildlife from exotic birds to rare frogs.
San Juan – San Juan is Puerto Rico's oldest city but it is likely also the most picturesque. It is full of amazing colonial style buildings in the old San Juan portion, has the Bacardi Rum Distillery, beautiful beaches and much more.
Mosquito Bay – This is one of three bioluminescent bays in Puerto Rico. However, Puerto Rico, although it has three, is one of the only places in the world that has a bioluminescent bay. So, you will not want your chance to visit one of these while you can. A bioluminescent bay is a bay that glows bright blue at night due to rare microorganisms that live in the water (they pose no harm to humans). Mosquito Bay is the brightest of these bays in the entire world.
Rincon – One of the best beach spots in all of Puerto Rico, which is known for its many gorgeous beaches, Rincon is a spot you really should not miss on your trip to Puerto Rico. The beach features incredible surfing as well as occasional views of humpback whales depending on the time of year that you visit.
San German – San German has the same sort of incredible old colonial architecture that San Juan has but it is minus the crazy crowds. It is also known for being an area on the island with some of the very best food. On top of that, it has a museum, art gallery and even a water park. So, you will not have any trouble trying to spend a full day here.
Final word
When you are visiting Puerto Rico for the very first time, know that you are about to see some breathtaking sights and will not soon forget your experience there. Just try to avoid hurricane season in the late summer into the fall. Also, you should try and plan what you will end up doing and what you will see during your trip in advanced. Doing so will help save you money, time and stress.