Jump to section:
How to drive around a pothole
How to drive over a pothole
Wrapping up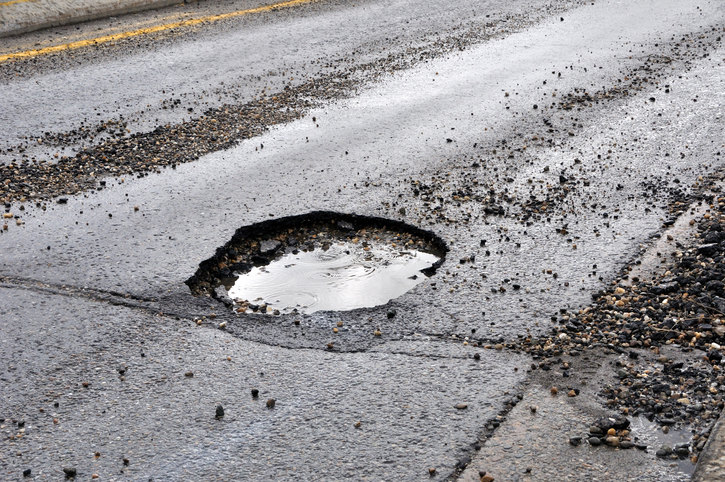 How to drive around a pothole
Potholes occur when water erodes the base away under the pavement which when combined with an older age of the pavement and/or potentially careless construction, makes it even easier for a pothole to occur. Because of this, potholes are unfortunately a fairly frequent occurrence in Puerto Rico.
After three hurricanes and two tropical storms in the last three years in Puerto Rico, the roads have suffered severe water damage and cracks, which only get worse when left unrepaired with traffic constantly driving over the damage. Thus, you have potholes on many roads. There has been an effort to repair the potholes in recent years but there are unfortunately still many remaining.
Driving around a pothole in Puerto Rico is not as difficult as it might sound as long as you stay focused on the road ahead and you do not drive too quickly. Driving too fast dramatically decreases your reaction time to any obstacle in the road ahead, not just potholes. You also should keep a larger than normal distance between your car and the car in front of you. Doing so will allow you to see any potholes sooner which will provide you with a maximum amount of reaction time.
You also should do your absolute best to avoid driving over any puddles. Puddles often form in potholes yet give the appearance of either flat pavement underneath or that of a much smaller pothole. Finally, try to avoid driving on any roads you know or notice are very old and/or in visible states of disrepair as these are breeding grounds for potholes.

How to drive over a pothole
If you have no choice but to drive over a pothole because the road you are on is too narrow or because there is traffic in your proximity that will prevent you from maneuvering safely around it, you should do everything in your power to minimize any potential damage. A great start will be to be sure that you have your tires properly inflated. You can check your vehicle's owner manual to see what the exact pressure specifications are for your particular tires. You should also keep your hands firmly secured to the steering wheel because when you do drive over the pothole, your car will get a jolt which can cause your hands to come off the steering wheel which can cause a momentary loss of control over the vehicle.
You should also avoid trying to brake suddenly. Braking right before you hit a pothole can end up causing more damage than if you had just driven over the pothole normally. This is because when you are engaging your brakes, you are actually limiting the ability of your shock absorbers and suspension in a significant way. Rather, you should take your foot off of the acceleration as soon as you see that you will be hitting a pothole. This will minimize the overall impact and any damage from it as well as preserve the protective function of your suspension and shocks during the moment of impact.

Wrapping up
Potholes can cause a ton of damage to your vehicle which can cost you hundreds or even thousands of dollars to repair. That is why you will want to do whatever you can to avoid driving over potholes or at least you will want to minimize the damage if you do. Always avoid speeding, keep extra distance between the car in front of you and your vehicle, do not brake if you have no choice but to drive over a pothole and always keep your tires properly inflated.