Jump to section:


How you can take care of it yourself
How you can get it fixed professionally
Wrapping up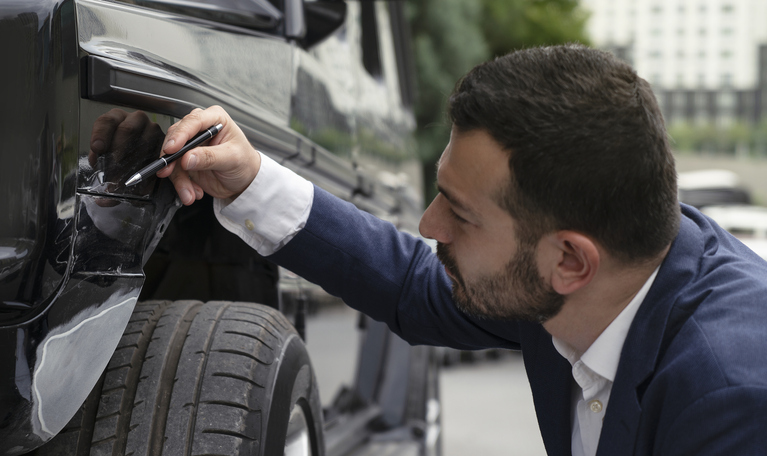 How you can take care of it yourself
If you get a scratch or two on your car's paint, you will definitely not want to drive around with it for everyone to see. So, getting it fixed will be a top priority. Thankfully, repairing the scratches on your car's paint is something that you can do yourself and that will be the quickest and cheapest option that you will have.
In order to repair a scratch in your car's exterior paint you will have a few options. The easiest will be to pick up a scratch repair kit from an auto store such as Pep Boys. Once you do, just follow the instructions provided. You will also have the option of using a glazing putty to fill in the actual scratch itself and then painting over it and the affected area. You should consider using "touch-up" paint for this if this is the route you choose. Touch-up paint can also be found at many common automotive stores.

How you can get it fixed professionally
Although getting your scratches on your vehicle repaired professionally will not be the quickest or cheapest option, it will be the easiest and lead to the best results. If you are going to get the scratches repaired professionally, you should start by finding a reputable paint repair service near you. In fact, in many areas a mobile paint repair service will likely be available to come to you wherever you are. Once you find a few shops or services, compare the rates and/or quotes you receive so you can most easily choose one that works best for you.
Once you do that, you will just need to schedule a time to bring your car in or have a mobile service come to you. Odds are that you will need to wait between a day and a week for your appointment, but it will take out all the rest of the effort on your part. In terms of cost, small scratches will run you about two hundred dollars apiece, give or take a few dollars depending on the severity of each scratch.

Wrapping up
A scratch in your car's paint is most definitely both unsightly as well as an irritating inconvenience. However, getting it taken care of quickly will be no problem. You can choose to fix a scratch yourself or you can choose to get it done professionally. Doing it yourself has the advantages of being the cheapest and fastest option while hiring a professional will get you the best results and be the most convenient as well.