Jump to section:


Safety first
Right of the way
Final word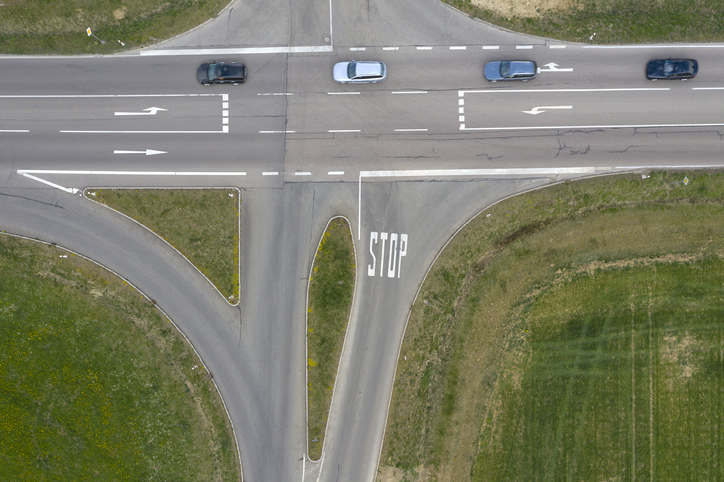 Safety first
When it comes to safety as you stop at a four-way intersection in Puerto Rico, there are important similarities and differences between a four-way intersection and a typical intersection. When you are coming to a stop, you should do so the same way as you would at any other stop sign. Come to the stop gradually, stop exactly at the stop sign rather than before or after it, and make a full stop by feeling your car rock back and then counting three seconds. Once you do make your complete stop, you should then check in all directions for both pedestrian and vehicle traffic. If the coast is clear, you can continue on.
However, at a four-way intersection, you will need to check right, left and forward (forward for turning vehicles). Due to the fact that you will need to check in several directions, you will need to re-check as you continue forward because in the time you checked in the other two directions, it is possible that another car has pulled up to or even run the first stop sign that you checked. When you are initially checking each direction and you see other vehicles at one or more of the other stop signs, you will need to navigate the "right of way" to determine who gets to go through the intersection first.

Right of the way
The "right of way" is a very precise way of determining the order of which certain cars get to continue through an intersection. Unfortunately, many people do not follow it which is why continued caution and alertness are always critical when you start through an intersection.
In a perfect world where everyone followed the "right of way" correctly all the time, it would work like the following. Whichever car arrived at their particular stop sign first, gets to continue through the intersection first after completing their stop. This would trickle down in order, so the second car to their stop sign would go second etc. The only exceptions are emergency vehicles with their emergency lights engaged or if a car has pedestrians crossing in front of it. If you and another car arrive at your particular stop signs at exactly the same time, wait and let them go. If they remain, try waving them on or flashing your brights. If you attempt to go first without being waved on yourself, you can easily end up in an accident.

Final word
Four-way intersections in Puerto Rico can be treacherous. You need to be able to check all three other directions and maintain a safe stopping technique at the same time. Using the "right of way" technique will go a long way to keeping you safe at a four-way intersection. However, not everyone will abide by that. So, always stay alert and use extreme caution at all four-way intersections.