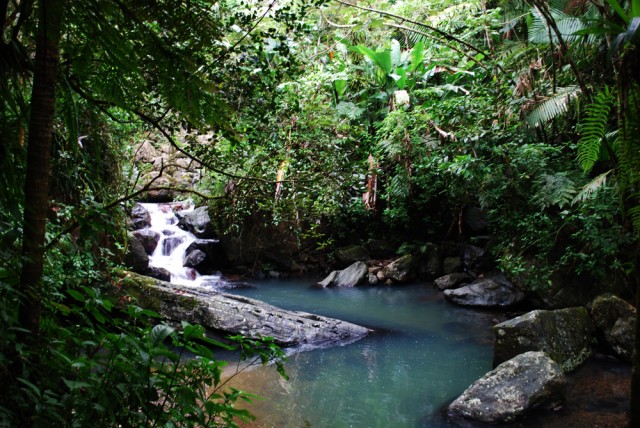 Visiting Rio Grande is an adventurous experience that will leave you with a vast amount of memories. Also known as La Cuidad del Yunque or Yunque City, Rio Grande is named after the great river that envelops the land. Rio Grande is located in the Northern Coastal Valley and just 30 minutes from San Juan.
Making its home in Rio Grande is the El Yunque National Forest. This forest is full of rivers and waterfalls and offers something to do for everyone. You can jump into the rivers, stop for a picnic along the banks of the river, or just relax with a good book. The El Yunque National forest is especially busy and popular on the weekends and in the summertime. The Rio Mameyes or Mameyes River is the river that runs down El Yunque National Forest and has the hidden gem of a secret swimming pool.
Golfing is a very popular sport and enjoyment in Rio Grande.  The Bahia Beach Plantation Golf Course has beautiful views of the El Yunque Rain Forest. The 18 hole golf course is played by both locals and tourists. Berwind Country Club was a course designed by Bob Holoman in 1960 and players can golf either 9 or 18 holes. Coco Beach Golf Country Club is the only golf course that offers 36 holes. The golf course is accompanied by mountains, oceans, palms, and lakes. Rio Mar has two courses you can play, each being 18 holes each. Rio Mar Ocean Course is a Bermuda Grass course and was designed by George and Tom Fazio. Rio Mar River Course is an 18- hole grass course that was designed by Greg Norman. The fees for all of these courses range anywhere from  $35 to $125.
Looking to visit Rio Grande, and is golf an interest of yours? Contact us today to ship your golf cart to Puerto Rico.